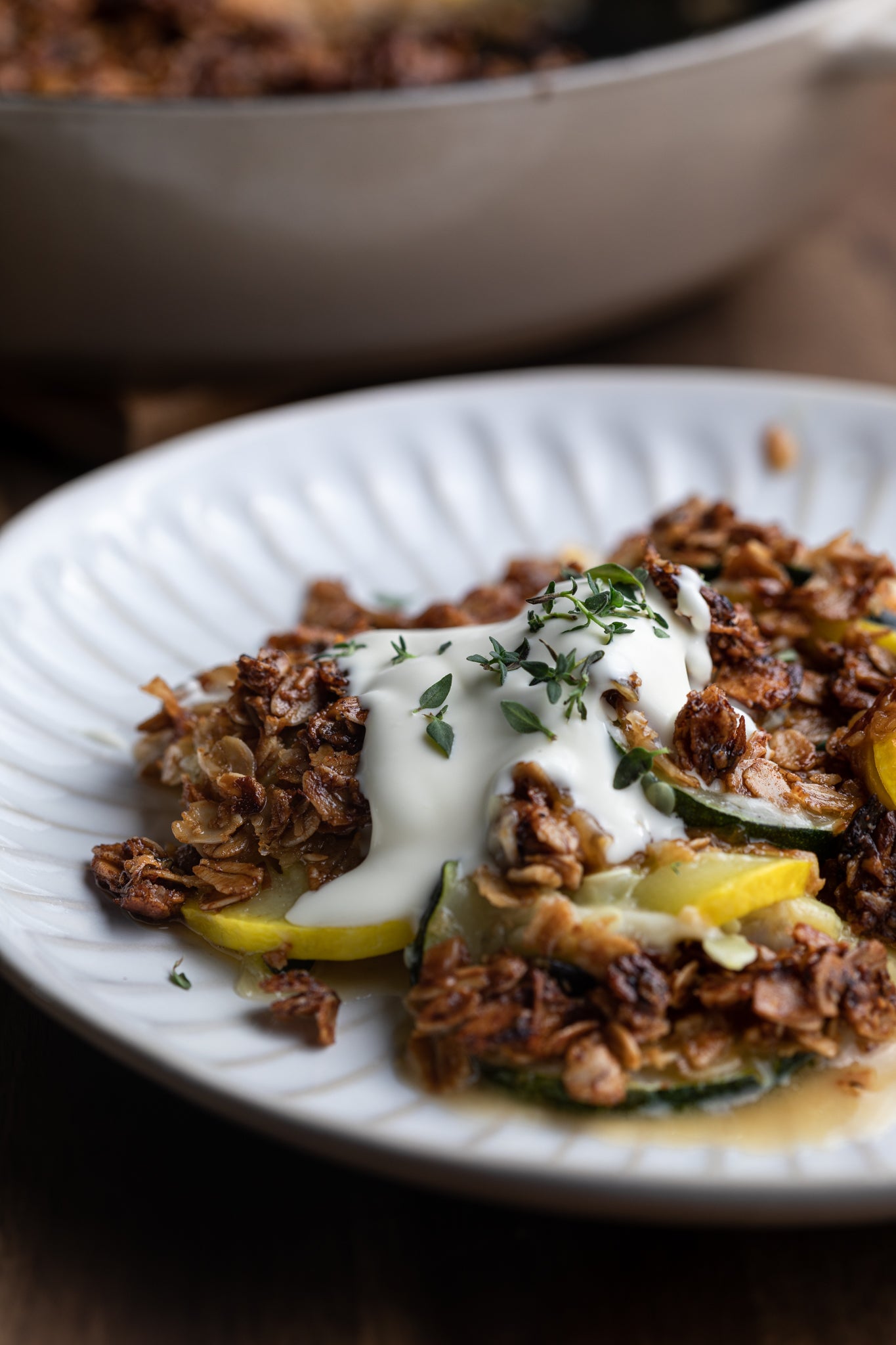 Summer Squash Gratin with Black Truffle Granola
Our Black Truffle Honey Granola adds a delectable truffle-y crunch to this summer squash gratin with a dollop of creme fraiche. Thanks to our friend Jenny Hurley at Sunny with Shadows for creating this awesome recipe. 
Ingredients
1 onion, sliced 

1 medium zucchini, cut into thin rounds about 1/2"

1 medium yellow squash, cut into rounds about 1/2"

3 tbsp melted ghee (or butter), divided 

1 cup gruyere cheese, shredded (can also use white cheddar)

1 cup parmesan cheese, shredded

2 cloves garlic, minced

Fresh thyme 

Salt and pepper for seasoning 
Preparation
Preheat the oven to 375°F.
Heat 1 tbsp of ghee in a large ovenproof skillet over medium-low heat. Add the onions, salt, and caramelize low and slow for about 20 minutes.
While the onions are caramelizing, add zucchini and squash to a large bowl and toss with 2 tbsp melted ghee, salt, pepper,  gruyere and set aside.
Add the last tbsp of ghee in a small bowl with your granola and parmesan cheese. Once the onions are caramelized, add the garlic to the pan and stir until fragrant or about 30 seconds. Turn off heat and spread onions into an even layer.
In a circle, starting from the outside and working your way in, lay the rounds of squash on top of the onions until the entire skillet is covered. You will have more than one layer of squash—keep going until the skillet is full.  Add gruyere on top of each round to make the inside super cheesy. Cover the entire top with your granola mixture and bake at 375F for 15-20 minutes. Serve with a drizzle of crème fraîche and a sprinkle of fresh thyme. Enjoy! 
Want more gratin? Try our Root Vegetable Gratin Recipe with our savory granola for a fall/winter version.