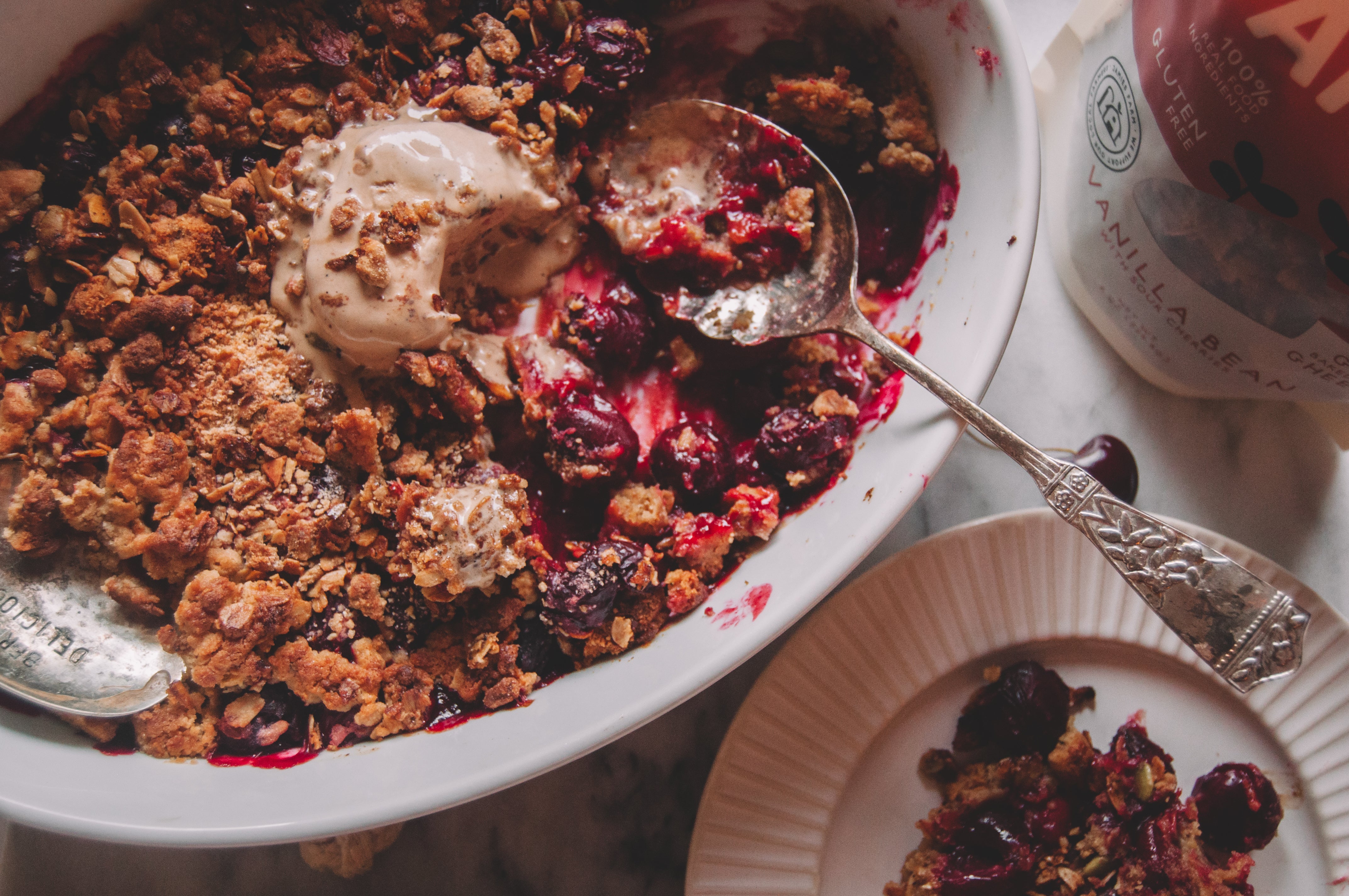 Sour Cherry Crumble with Vanilla Bean Granola
With bright and tart, black sour cherries in season, we celebrated this delicious fruit by making a cherry granola crumble (amongst many other things)!
Sour cherries have a short 2-week period in late July, making them a rare and prized fruit. Because they're highly perishable, they're mainly grown for commercial use. If you peek at your farmer's market or pass a U-Pick Farm whilst they're in season, you may be able to get your hands on some sour cherries!
When roasted, sour cherries begin to caramelize, rounding out their sharp flavors while still offering a slightly acidic bite. Finished off with a buttery crumble topping made of our vanilla bean granola with honey, this cherry crumble is a perfect balance of buttery, sweet, and tart. Use this simple recipe to make the most of your sour cherries this summer.
Our Vanilla Bean Granola adds depth of flavor and the perfect, oaty crunch to the succulent sour cherries. Bright and acidic, balanced by buttery, honey toasted oats.
Ingredients

Filling:

3 cups pitted sour cherries
2 tbsp oat flour
3 tbsp honey
1.5 tsp vanilla extract
1 tsp lemon zest
1 tsp lemon juice
1/4 tsp salt

Streusel:

1/2 cup almond flour
1/4 cup unsalted butter, cubed at room temp.
3 tbsp Honey
1/4 cup oat flour
1/4 tsp sea salt
1/2 cup Jamie's farm Vanilla Bean Granola, plus more to serve if desired

Preparation

Preheat the oven to 350 degrees. Toss all the filling ingredients together and set aside. For the streusel, mix the almond flour, oat flour, honey, and salt together. Rub the butter in until the mixture resembles cornmeal. Combine with the granola.

Place the filling into a pie pan and top with streusel. Bake until golden brown, about 40 minutes. Let cool slightly, then serve with whipped cream, yogurt, or ice cream.