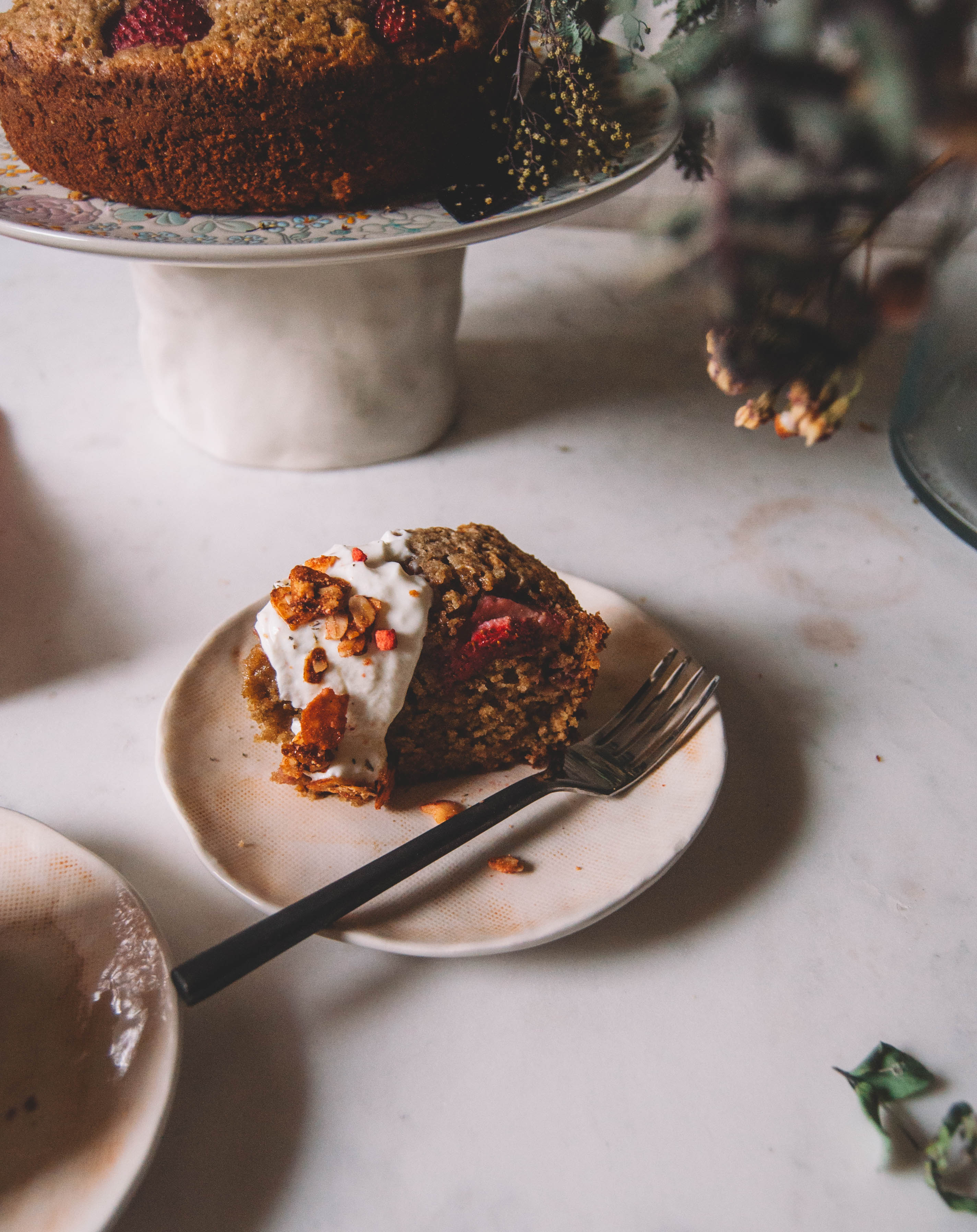 Strawberry Corncake with Yogurt and Granola
A fresh, roasted strawberry cornmeal cake with a dollop of velvety yogurt and granola makes the perfect summer dessert... or breakfast. We add a hint of thyme for a slight herbaceous note to the entire mix, balancing out the sweetness of the strawberries and caramelized crust. Rustic, beautiful, and delicious.

INGREDIENTS:

1 cup hulled, quartered or halved strawberries

1 cup whole wheat pastry flour

1 cup cornmeal

2 teaspoons baking powder

1/2 teaspoon sea salt

6 tablespoons unsalted butter, room temperature

2/3 cup cane sugar plus extra to sprinkle

2 large eggs

1 teaspoon fresh thyme

1 teaspoon vanilla extract

1/2 cup milk, room temperature

Greek yogurt

Jamie's Farm Granola

 

Preparation:

Preheat the oven to 350 degrees. Butter and flour a 9-inch spring form pan. In a small bowl, combine flour, cornmeal, baking powder, and salt.

In a stand mixer with a paddle attachment, cream butter until pale and fluffy. Add sugar and thyme, and continue to beat. With mixer on low, add eggs one at a time, then the vanilla extract.

Fold in half of the flour mixture and the milk. Add the rest of the flour, and mix just until combined. Pour batter into the cake pan, then arrange strawberries on top of the cake. Sprinkle with sugar.

Bake 50 min, or until a toothpick inserted in the center comes out with just a few crumbs attached.

When finished, cool on top of a wire rack for 15 minutes. Pop the cake out of the pan, then cool an hour  before slicing and serving with yogurt and granola.