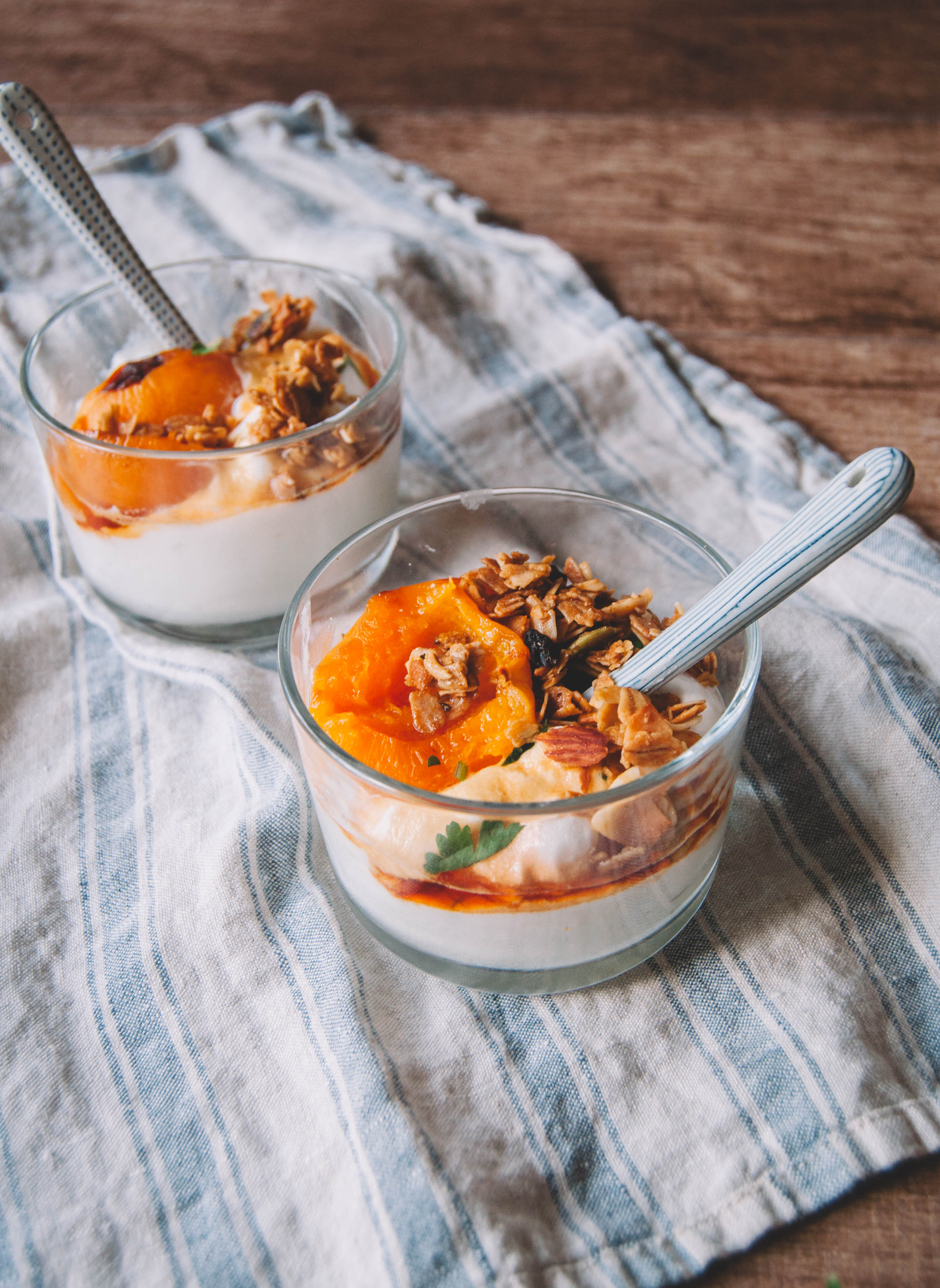 Honey Yogurt Mousse
Yogurt. Mousse. 
I experimented with this to give out at a pop-up event I did at a West Elm store in Albany, NY last week. One customer in the store said, "this is the best yogurt I've ever had!"
You'll agree. It's light, fluffy, and slightly tangy. Super easy and simple to make - you could whip it up for friends and family in just 15 minutes!
And did I mention it's healthy?
Nothing more goes into this recipe than a couple of egg whites, plain greek yogurt, and a little bit of honey or maple syrup depending on how sweet you want it. Certainly high protein :)
This yogurt mousse works great as a dessert, a snack, or even breakfast. I had mine with honey-roasted apricots (since they're in season), fresh mint, rosemary granola, and a little drizzle of jasmine-infused maple syrup.
Makes 4 servings:
3 egg whites
1 cup plain greek yogurt
1-2 tbsp honey (or maple syrup if you choose)
Lemon zest
To serve:
To make: 
Using a mixer with a whisk attachment, beat the egg whites in a bowl until light and fluffy. Heat the honey over medium heat in a small pot. When the honey begins to bubble, slowly stream the warm honey into the bowl of egg whites while beating the mixer continuously. Beat until the egg whites form stiff peaks. 
In a separate bowl, mix greek yogurt and lemon zest. Spoon in some meringue into the yogurt to loosen it up. Then, with a rubber spatula, gently fold in the rest of the meringue until fully incorporated. Chill in the fridge to set, then serve with all your toppings.
I roasted my apricots by cutting them in half, rubbing a little bit of honey on them, and roasting them in the oven at 400 degrees for 15 min. 
Enjoy!