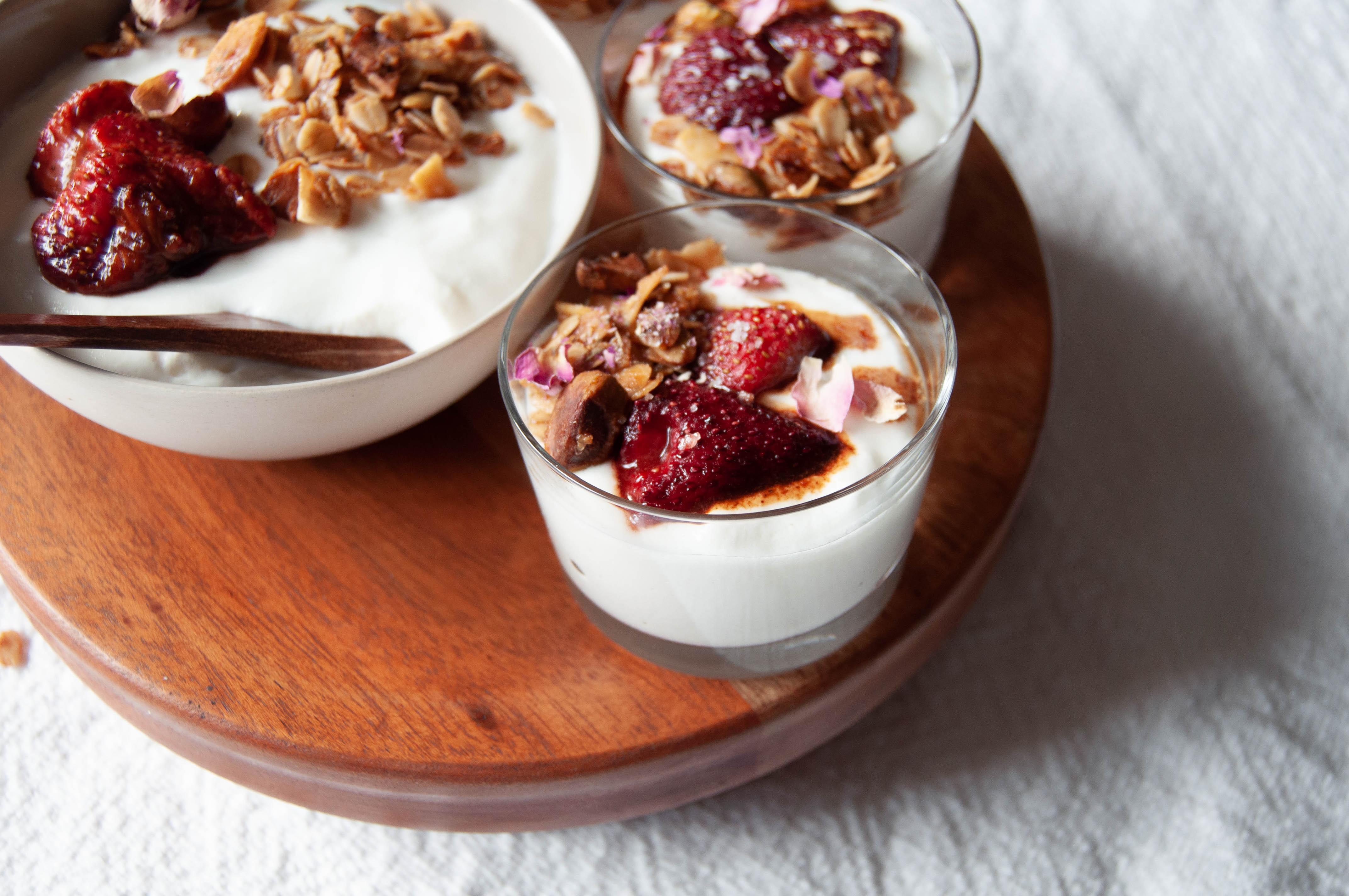 Greek Yogurt Mousse with Wine Roasted Strawberries
Our favorite recipe in our book: this velvety smooth, light-as-a-cloud yogurt mousse is simple to make, and can be eaten for breakfast, dessert, or a snack. Create whatever variation you'd like, serving with other roasted fruits, compotes, granolas, toppings, you name it.
Serves 4:
Ingredients

For the honey yogurt mousse:

3 egg whites
1 cup plain greek yogurt
1-2 tbsp honey, to taste
Lemon zest

For the wine-roasted strawberries:

2 pints strawberries, hulled & halved
2 pieces star anise
2 tsp vanilla extract
Lemon zest
1/2 cup white wine
2-4 tbsp maple syrup, to taste
Pinch of salt

 To serve:

Pinch of flakey sea salt

Rose petals

Preparation

To roast the strawberries, toss everything together into a baking dish. Bake at 350 ° F for about 40 min, checking occasionally to stir and add water if it appears dry. Remove star anise before serving.

Using a mixer with a whisk attachment, beat the egg whites in a bowl until light and fluffy. Heat the honey over medium heat in a small pot until it begins to bubble. Slowly stream the warm honey into the bowl of egg whites while beating continuously. Beat until the egg whites form stiff peaks.

In a separate bowl, mix greek yogurt and lemon zest. Spoon in some meringue into the yogurt to loosen. Then, with a rubber spatula, gently fold in the rest of the meringue until fully incorporated.

Chill in the fridge to set. Serve with roasted strawberries, flakey sea salt, rose petals, and plenty of granola.