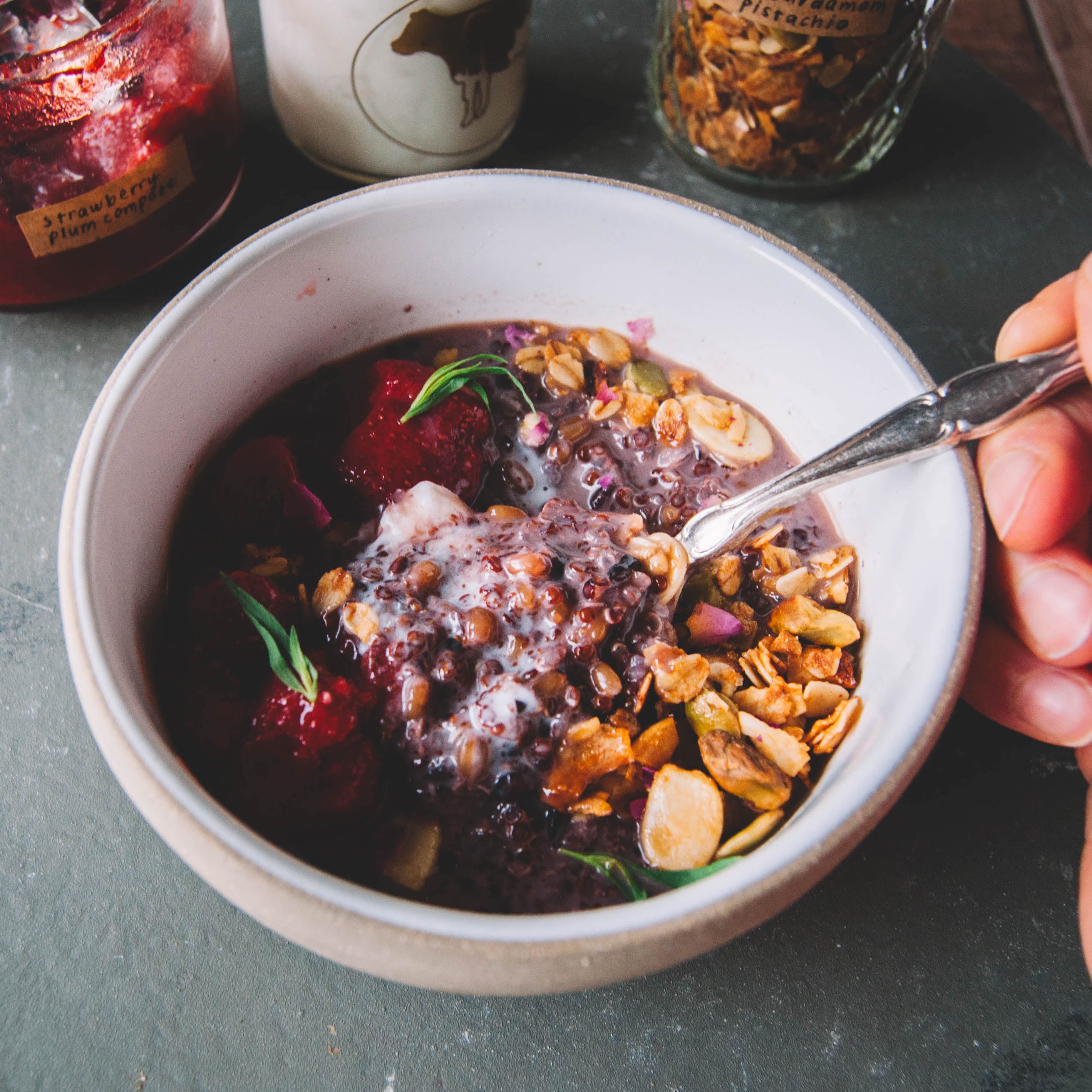 4-Grain Porridge with Coconut Cream, Strawberry Plum Compote & Granola
This warm porridge features four different kinds of grains, designed to keep you fueled and powered for the day. The wheat berries and quinoa add amazing texture, beating any ordinary bowl of oatmeal.
We added goat milk and coconut cream for a luscious, creamy flavor, and topped it off with a strawberry plum compote roasted with red wine and spices. Also featured is our rose cardamom & pistachio granola, one of our flavor collaborations with Beekman1802 - set to come out in 2020. If you don't have the rose cardamom pistachio granola, we would suggest our vanilla bean granola, or our rosemary granola.
We're excited by how beautiful this bowl is. The granola comes with brilliant, pink rose petals and green pistachios.  
Ingredients:
1 cup wheat berries, soaked overnight and cooked
1 cup black rice, soaked overnight and cooked
1 cup cooked quinoa
1/2 cup teff
1 can coconut milk
1 cup water
1/2 cup goat milk
2 tsp cinnamon
1 tsp allspice
2 tbsp vanilla extract
2 tbsp maple syrup
Salt to taste
For the strawberry wine compote:
1 cup frozen strawberries
2 plums, diced
1 tsp Chinese Five-Spice
1/2 cup red wine
2-4 tbsp maple syrup, to taste
Pinch of salt
To Serve: 
Coconut cream
Jamie's Farm New York Granola
Fresh basil, mint, or tarragon
Flakey sea salt
Add the cooked grains to a pot with the rest of the ingredients. Simmer over medium-low heat, stirring frequently, about 20 minutes. Season with a bit more salt if the flavors aren't popping.
To make the Strawberry Compote: Toss everything into a baking dish and stir well. Bake at 350F for about 40 minutes, checking occasionally to stir/add a little water if it appears dry. Take it out when strawberries have cooked down and caramelized. 
Serve the porridge warm (reheat with a splash of water and goat milk if needed). Dab a bit of coconut cream over top, any juices from the roasted fruit compote, if there are any. Top with strawberry compote, fresh herbs, flakey sea salt, and our granola.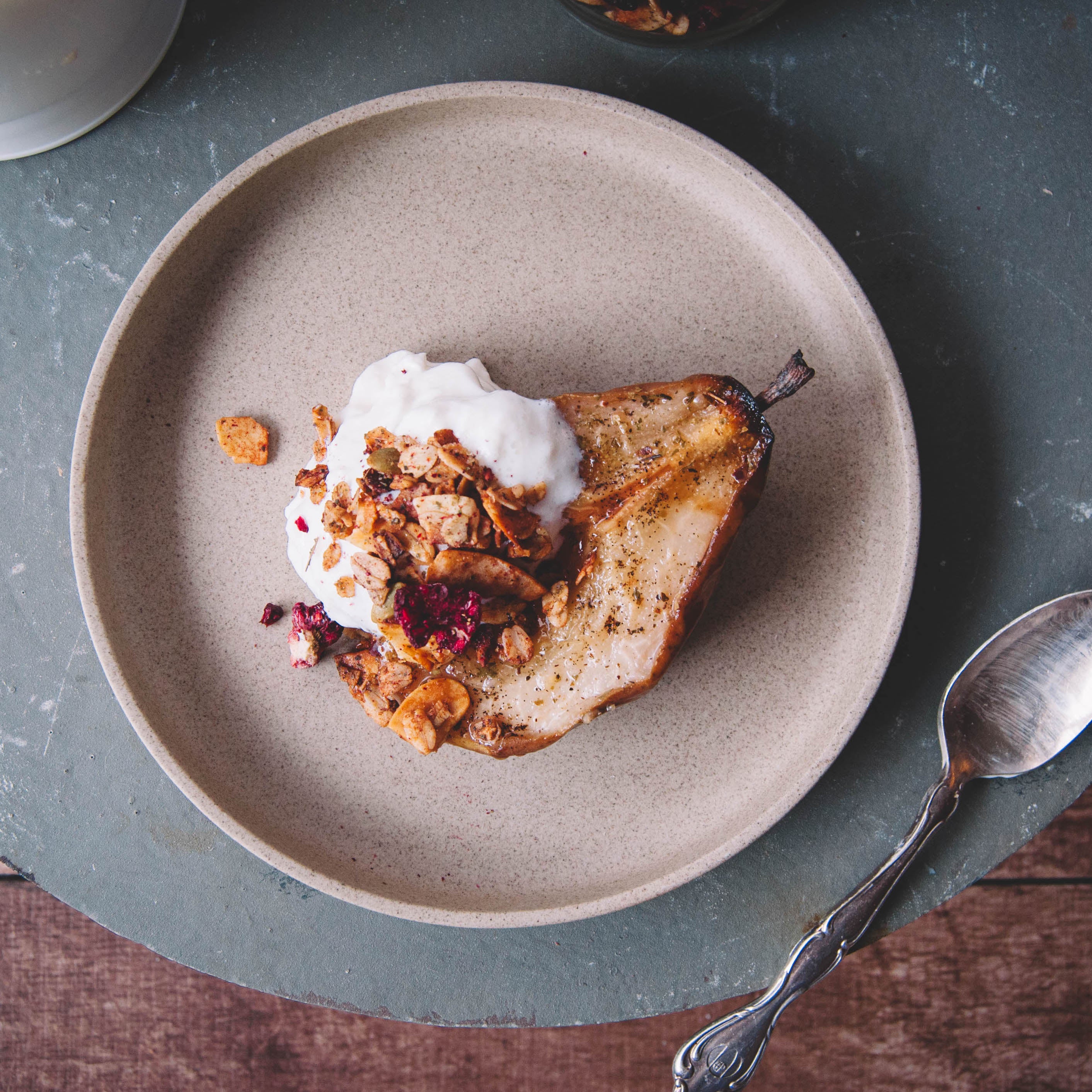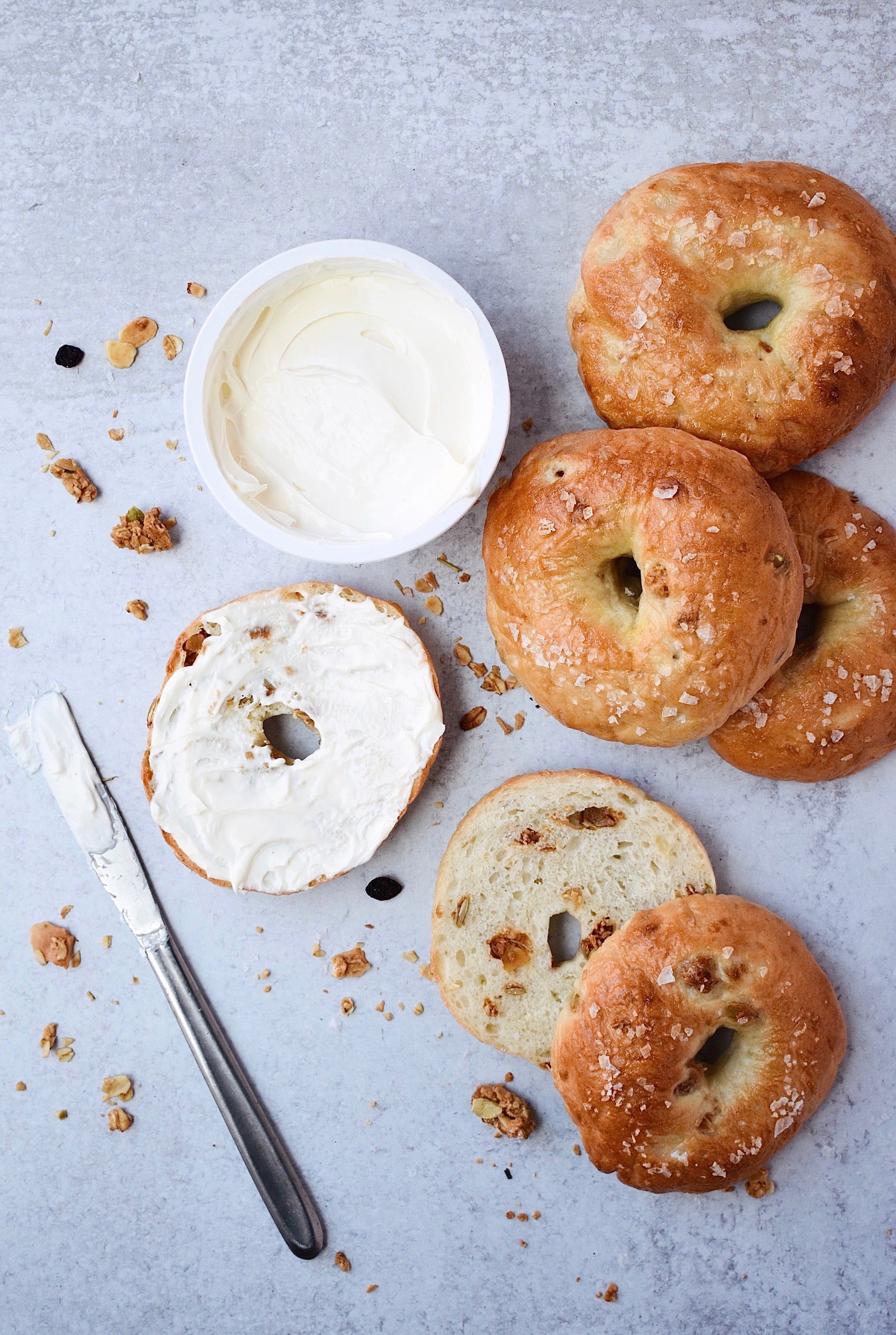 Rosemary Granola
We've put granola on top of a lot of things around here, so I figured it was time to start putting it inside things. These rosemary granola salt bagels are a game changer; like come on, how many ba...
Read more