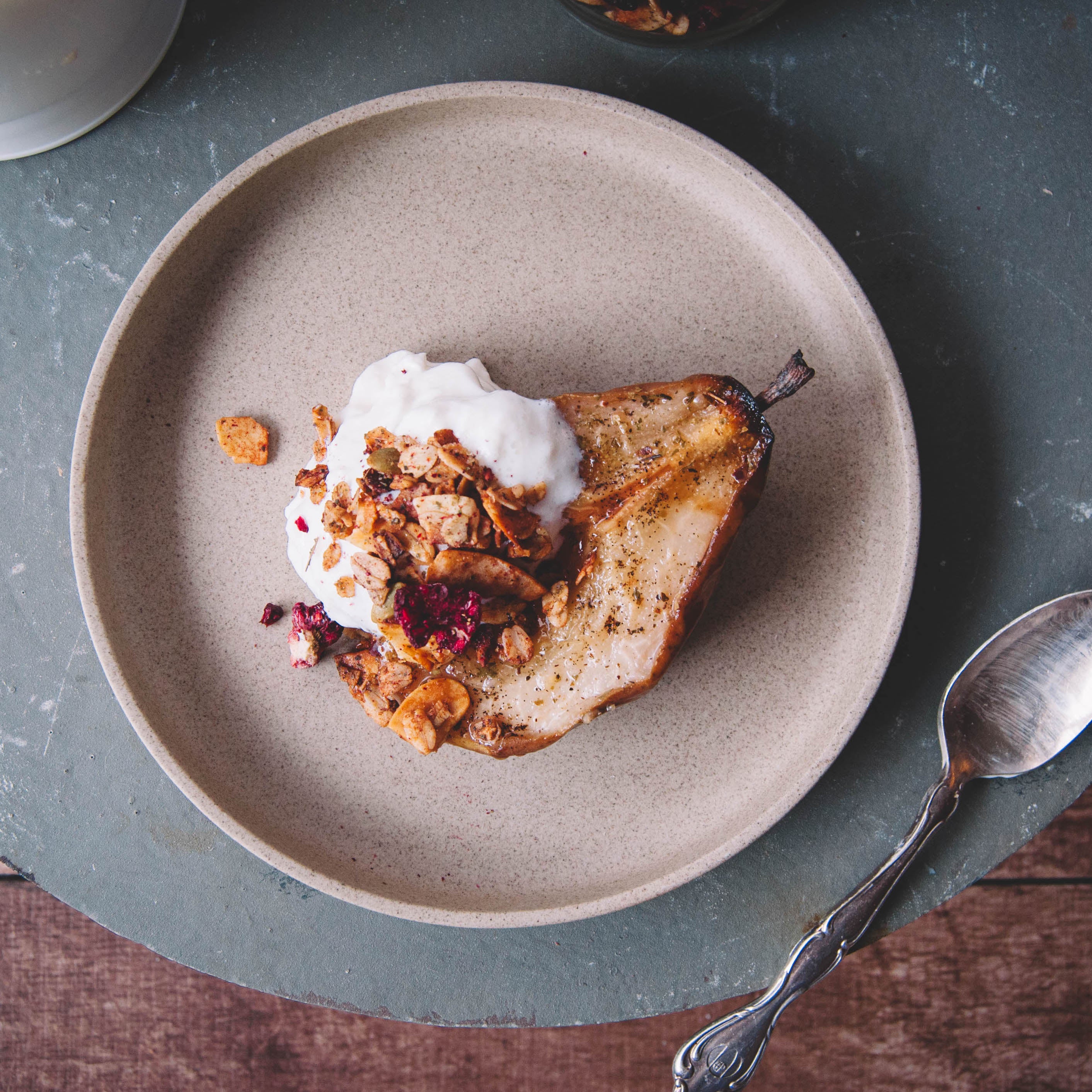 Honey Roasted Pear with Yogurt Mousse & Granola
The yogurt mouse only takes 5 minutes, and the roasted pear requires very little active time in the kitchen.
Our roasted pears, simply brushed with honey and dusted with lemon verbena, becomes even juicier, with the honey enhancing its natural succulent flavor, the lemon verbena brightening up the flavors, and the final result just melting in your mouth. We then whipped up a yogurt mousse with only 3 simple ingredients: greek yogurt, egg white, and honey. It's light and fluffy, absolutely high in protein, and most importantly, tastes more indulgent than it actually is. Top it off with granola, and you've got yourself a dish. Have it for breakfast, have it for dessert, whatever suits you. It's appropriate for any time of the day.
Jamie's Farm is an artisan for lifestyle company, Beekman1802. Primarily known for their goat milk soaps and lotions, they came to us to come up with 3 spring granolas with flavors inspired by goat milk. So in this recipe, we're featuring our spring mix of lemon verbena & freeze-dried blackberry granola, but with the holidays coming up, we'd imagine this could taste good with the rosemary or the vanilla bean granolas as well!
Our glorious pear, waiting to be dressed.
A succulent pear roasted with sweet honey & lemon verbena, topped with light & fluffy yogurt mousse with a handful of crunchy granola.
Ingredients

For the roasted pears:

2 pears, halved
Honey to brush on
Lemon verbena loose leaf tea (can get on

 

Amazon)
Flakey sea salt, such as Maldon

For the honey yogurt mousse: 

2 egg whites
3/4 cup plain greek yogurt
1 tbsp honey (or maple syrup if you choose)

To serve:

Preparation

To make the roasted pears, preheat the oven to 425. Lay the roasted pears into a baking tray, halved sides up. Lightly brush honey on all of them, then dust with lemon verbena loose leaf tea. If you don't have lemon verbena, you can also use cinnamon to pair with our fall/winter seasonal Sweet Potato Granola or Vanilla Bean Granola.

Sprinkle flakey sea salt, then roast for about 25 min, or until tender. 

To make the yogurt mousse, using a mixer with a whisk attachment, beat the egg whites in a bowl until light and fluffy. Heat the honey over medium heat in a small pot. When the honey begins to bubble, slowly stream the warm honey into the bowl of egg whites while beating the mixer continuously. Beat until the egg whites form stiff peaks. 

In a separate bowl, mix greek yogurt and lemon zest. Spoon some meringue into the yogurt to loosen it up. Then, with a rubber spatula, gently fold in the rest of the meringue until fully incorporated. 

To serve, plate half a roasted pear with a generous spoonful of honey yogurt mousse. Top with granola and enjoy!