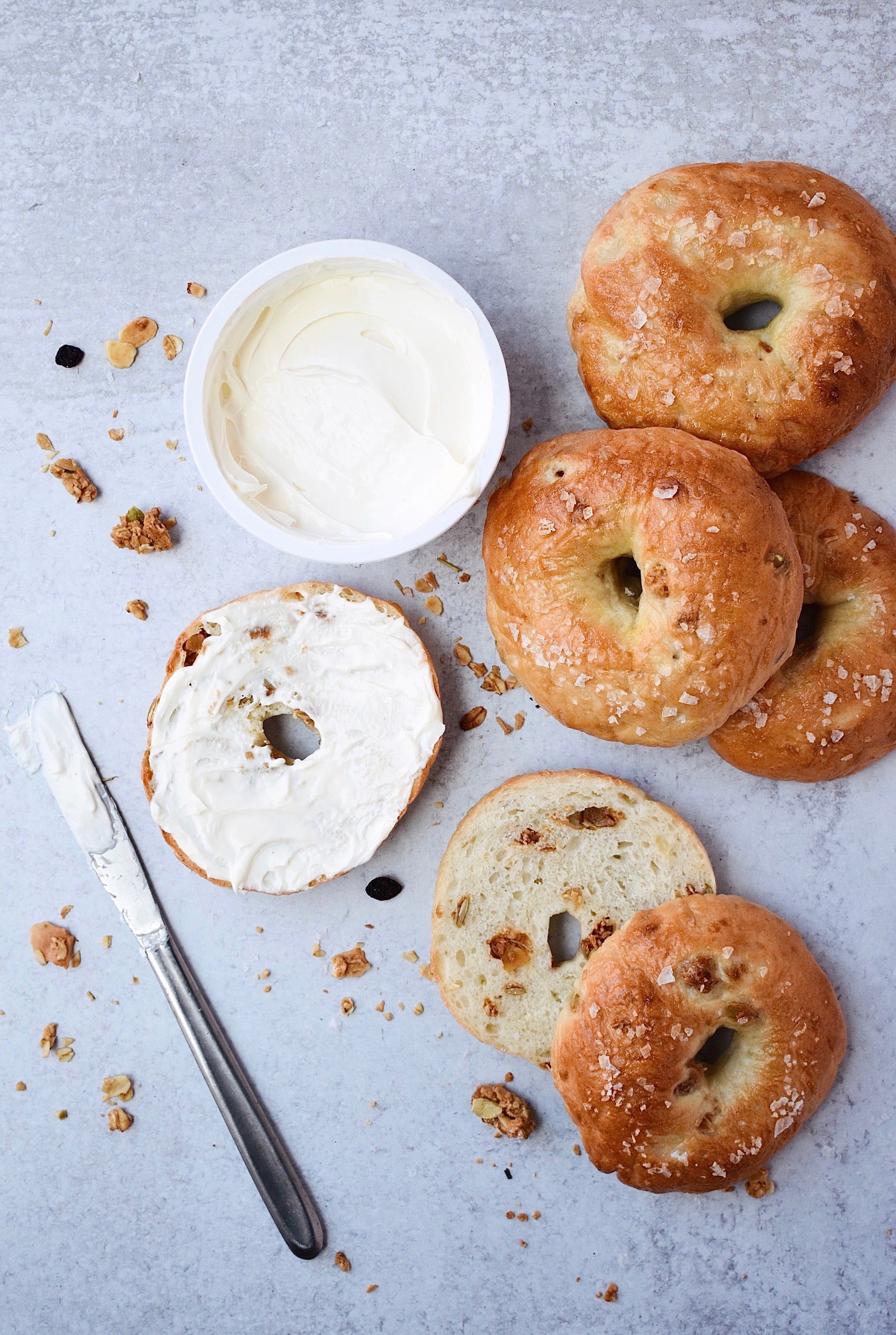 rosemary granola salt bagels
We've put granola on top of a lot of things around here, so I figured it was time to start putting it inside things. These rosemary granola salt bagels are a game changer; like come on, how many bagels with GRANOLA in them do you see around? The rosemary flavor shines while little pockets of sweetness from the granola itself are present.
The contrast of a crunchy and salty top balances it all, making this one heck of a carbohydrate. It's chewy, fluffy, and when toasted, the granola crisps up again for optimal texture.
 I love eating these with cream cheese and jam, or avocado and pickled onions, even with scrambled eggs and cheese! I hope you try them out and love them as much as I do. Making bagels is not nearly as intimidating as you think, trust me!! :)
Ingredients:
3.5 cups bread flour
1.5 tsp salt
1 tbsp active dry yeast
1.5 tbsp white sugar
1.5 cups warm water
1 cup bumble & butter Rosemary Granola
1 egg, beaten (for egg wash)
Flaky sea salt (for topping)
**Makes 8 bagels
1. Add yeast and sugar to warm water. Stir and let sit for about 10 minutes until mixture has a foamy and puffy top. Stir lightly after 10 mins.
2. Whisk flour and salt in large bowl, then add yeast mixture. Mix with hands until a shaggy dough forms. (Should be slightly moist and have flour left at the bottom).
3. Dump shaggy dough onto clean work surface and begin kneading. If dough is too tacky and sticks to hand, sprinkle on a little flour as needed. Knead for about 10-12 minutes, or until dough becomes soft, silky and elastic. (Takes around 10 for me).
4. After 10 minutes, pour granola into middle of dough and knead it in for about 1-2 minutes or until fully incorporated.
5. Form dough into a ball. Lightly oil a large bowl and drop dough ball in, swirling it around to make sure it doesn't stick. Cover with a damp dish towel and let rise in a warm place for 60-70 minutes.
6. Take off dish towel. At this point, the dough should have doubled in size. Punch the center of the dough down to let air escape. On a lightly floured surface, dump dough out and cut into 8 equal pieces. (Half it, then cut the halves in half, and those halves in half).
7. Form pieces into balls using your work surface. First, fold edges into the center of the dough piece. Then flip over so the seams are down and cup your hand on top of dough. Working in a circular motion, form into ball. Place all dough balls on a lightly floured sheet pan, cover with the same damp dish towel and rest for 10 minutes.
8. Preheat oven to 425 F. Bring a large pot of water to a gentle boil. After dough balls have rested, flour your index finger and thumb, and make a hole in the center of the ball. This creates the bagel hole, and with two index fingers pointing to each other through the hole, stretch it out until about 1 inch in diameter. Repeat with all 8.
9. Using a slotted spoon or spider, drop bagels (i did 3 at a time) into the pot of boiling water. Boil for 1.5-2 mins on each side~2 mins will give you a chewier bagel, my preferred texture!
10. Transfer boiled bagels to baking sheet lined with parchment, giving them space to expand a bit. Brush tops with egg wash and flaky salt, bake for 18-20 minutes or until golden brown and enjoy!!