Spring Green Bowl with Herb Hummus & Rosemary granola
As the weather's getting warmer, with longer days of sunshine, we're collectively feeling a much chipper mood: ready to start fresh by not only cleaning out our home, but also reigniting our minds and body with something nourishing and green.
I picked up a few items from the farmer's market last weekend and felt inspired to create something from the bountiful greens. This vibrant green bowl features sauteéd broccoli raab and kale, finished off with lemon verbena butter. The uplifting aromas of lemon verbena in conjunction with the rich, indulgent butter adds brightness and depth to the greens.
We made a side of zingy herb hummus from fava beans —creamy, bright, and a slight tinge of green— blanketed by a velvety poached egg and covered with a mix of fresh micro greens, dill, avocado, and a squeeze of lime. And finally, what would a bowl be without some rosemary granola for some added crunch?
What's great about this bowl is that you can really use any kind of greens or herbs you prefer - perfect for using up all those extra herbs hiding in your fridge. Packed with flavor, and extra beautiful plated.
Ingredients:
For the broccoli raab:
Lemon Verbena

 

Butter

3 tbsp butter
1 tbsp lemon verbena

1 stalk of broccoli rabe
1 bunch kale
2 scallions, segmented about 2" long
Extra virgin olive oil
Minced garlic
For the fava bean herb hummus:
2 cup fava beans
4 cups water
Caramelized onions:

1 large onion
2 tbsp olive oil
2 tbsp apple cider vinegar
2 tbsp maple syrup
Salt + pepper to taste

1/4 cup olive oil
1/3 cup ice water
1 bunch dill
1 bunch mint
1 tbsp thyme leaves
Lime juice
Salt to taste
To Serve: 
Sliced avocado
Lime wedge
Sliced radishes
Rosemary Granola
Poached eggs
Fresh herbs - we used micro mint, dill, & nasturtium 
Micro greens - we used sorrel
Flakey sea salt
To make the lemon verbena butter: In a sauté pan, melt the butter over medium high heat. Add the lemon verbena leaves and heat until fragrant, about 2 min. If you brown the butter and caramelize the milk solids, good for you - it'll add more flavor. Take off heat, and set aside.
In the same pan, heat the olive oil over medium-high heat. Sear the segmented scallions, allowing to rest on the pan without stirring too frequently to get them nice and caramelized. Once browned, add the minced garlic, then the broccoli rabe and kale, seasoning with salt and black pepper. Sauté for about five minutes until cooked through. Add the lemon verbena butter to finish. 
To make the fava bean hummus: Soak the fava beans for 3 hours or overnight. Drain the water, and bring the fava beans and water to a boil. Cook for about 30 min or until soft.
Meanwhile, make the caramelized onions. In a sauce pan, heat the olive oil over medium high heat, add the onions, stirring, and cooking until they begin to soften about 15 min. Add the maple syrup and apple cider vinegar. Reduce until jammy, another 15 min. Season with salt and pepper to taste.
Once fava beans are cooked, add to a food processor along with the caramelized onions, dill, mint, and thyme.  Blend while streaming in slowly the olive oil and ice water. The ice water will allow for a fluffy texture. You may or may not need more liquid to blend until smooth. Adjust seasonings with salt, lime juice, and more herbs to taste.
To serve: Smear a generous spoonful of fava bean hummus on the edge of your plate. Arrange the sauteéd greens on the other half of the plate. Arrange sliced avocado, radishes, sprigs of dill, mint, and micro greens on top. Finish off with a poached egg, drizzle of extra virgin olive oil, flakey sea salt, and rosemary granola. Squeeze lime over top. Enjoy!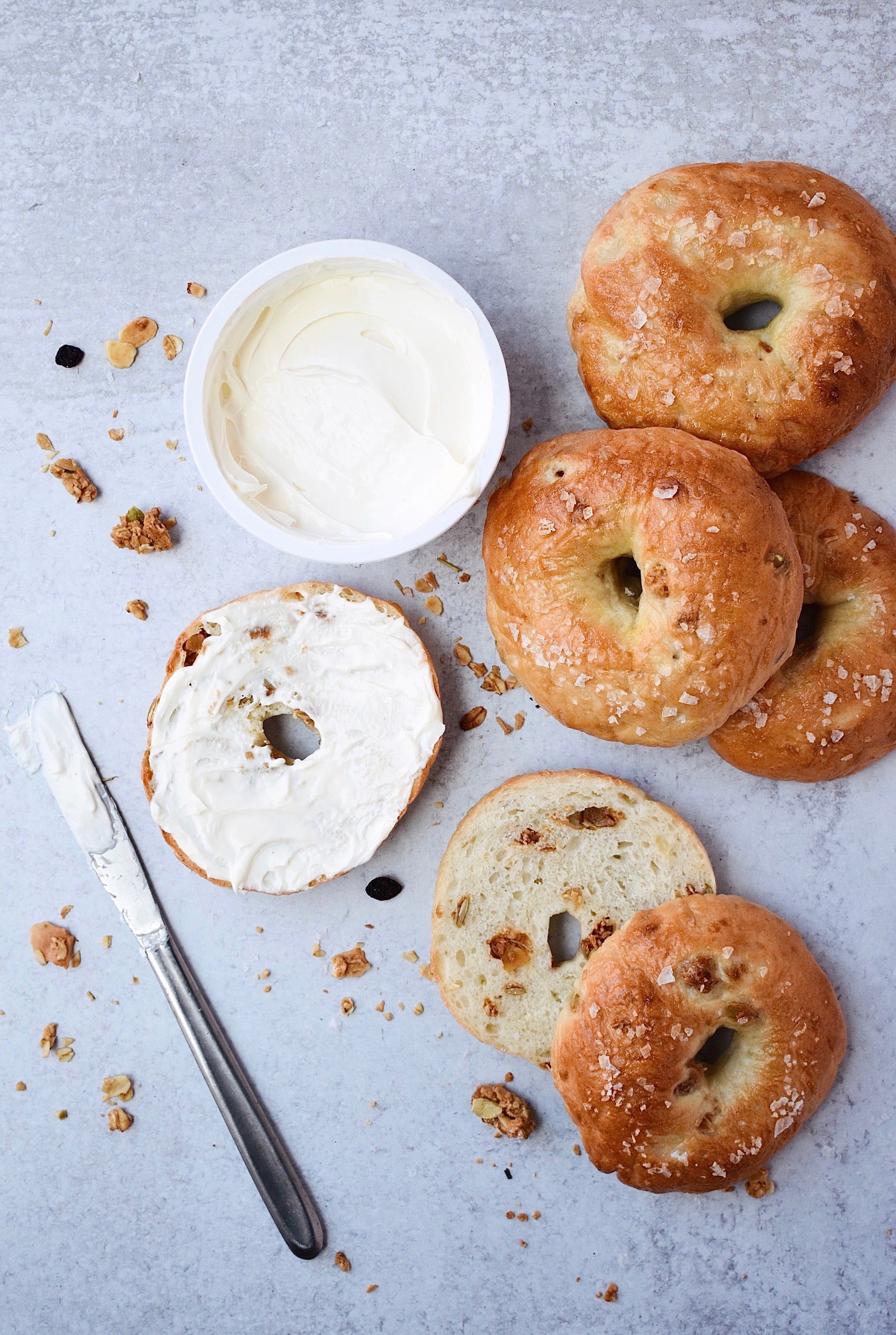 Rosemary Granola
We've put granola on top of a lot of things around here, so I figured it was time to start putting it inside things. These rosemary granola salt bagels are a game changer; like come on, how many ba...
Read more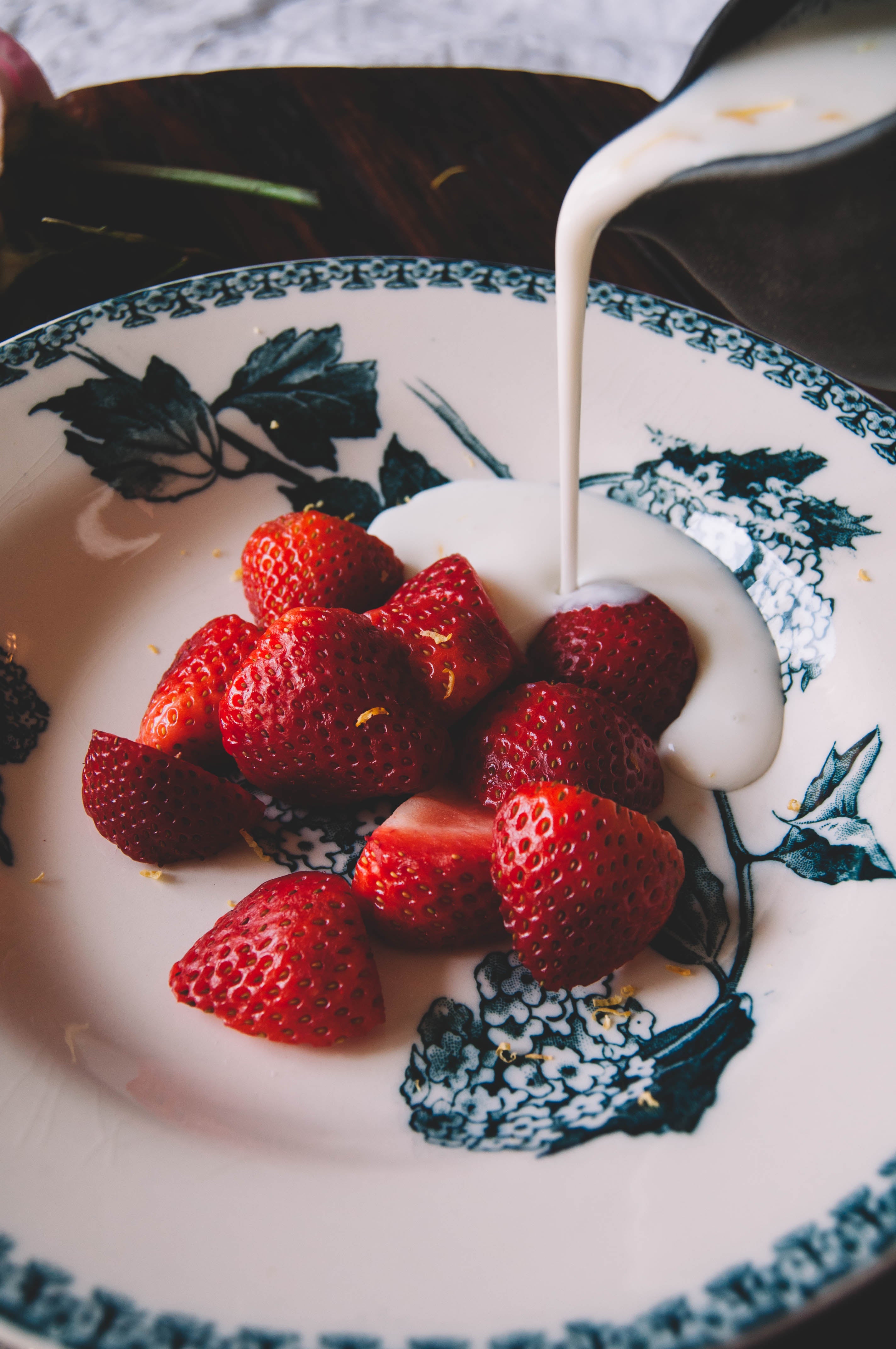 Rosemary Granola
Making yogurt and kefir is super simple to make at home. All you need is milk and a little bit of yogurt to kickstart the fermentation process.
Read more