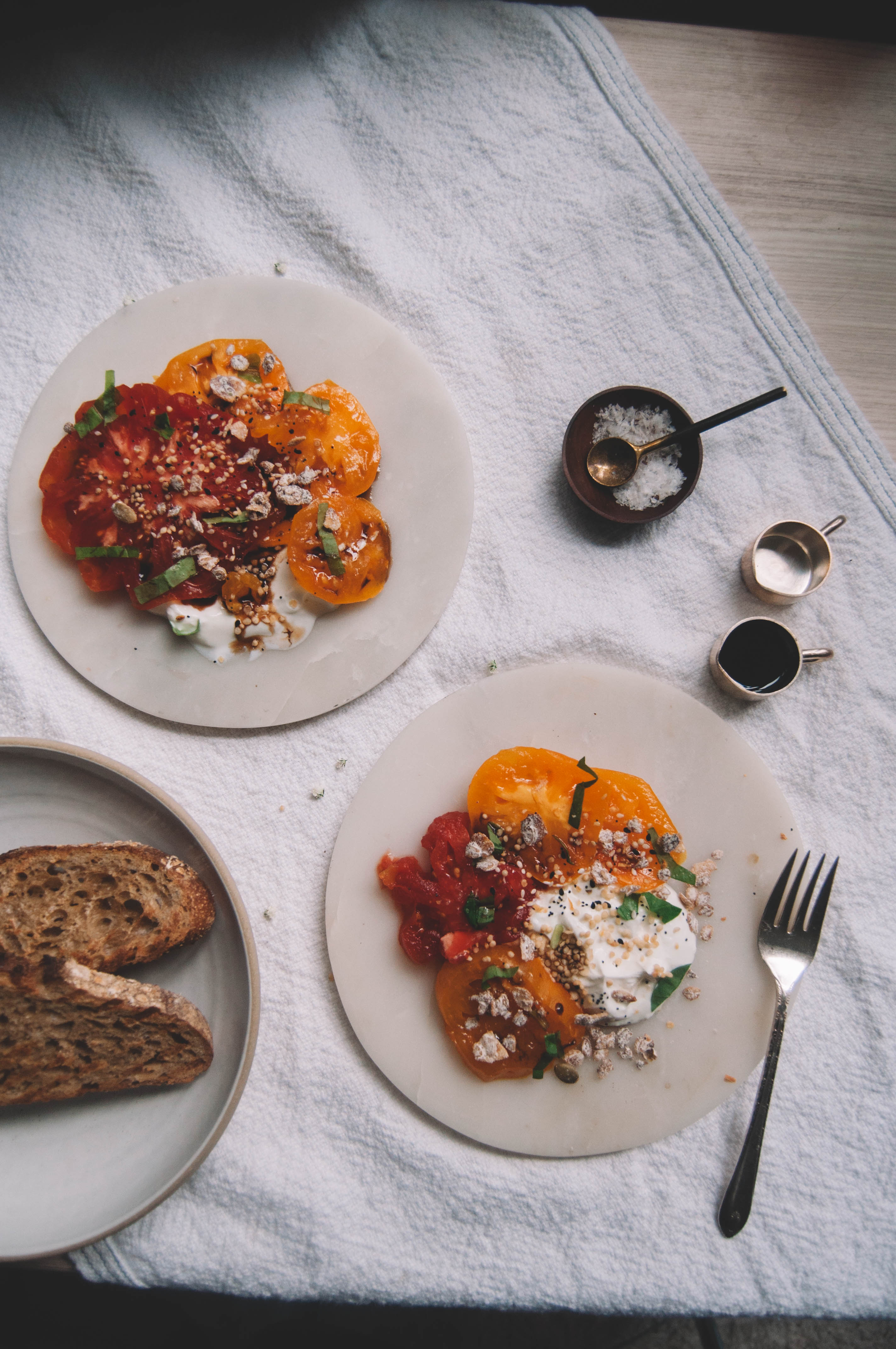 Delicious food can be simple.
When it comes to cooking at home, I don't think it needs to be difficult. People in the past have known me to cook complicated, multi-component recipes, but on an everyday basis, I find myself enjoying the simplest meals. 
But, one thing's for sure:
It starts with the ingredients, and in my definition, that means sourcing seasonally and locally. It's about feeling connected to your food.
I feel so lucky to be living in such an agriculturally rich environment in upstate New York! As a college student, I often find myself surrounded by a food culture dictated by on-the-go snacks and take-out. I've certainly succumbed to this culture at times, but find myself the happiest and most content when I take the time to eat healthfully and mindfully. Honestly, cooking at home saves a ton of money and it allows me to remember how good food and amazing ingredients can taste.
I tend to shop exclusively at Ithaca Farmer's Market for the freshest local produce or GreenStar Cooperative Market for any dry goods (where we also sell our granola!). GreenStar has an amazing bulk section with everything you can possibly imagine - various kinds of grains, nuts, miso, olive oil, maple syrup... just bring in your own containers, tare the weight on the scale, and get as much as you need. Doing this saves you the unnecessary packaging costs and eliminates that problem where we tend to purchase more than we actually need.
So you're probably wondering what these photos of food are. I just recently received some quarks from my friends at Wunder Creamery - if you don't know what quark is, you must try it out because it is absolute creamy, deliciousness. They have a lot of awesome flavors like coffee and matcha, but I used their plain ones to incorporate into my meals.
In the photo above, you see local heirloom tomatoes on plain quark, drizzled with fig balsamic vinegar and extra virgin olive oil, then topped with smoked Maldon sea salt, chopped basil, and some cheddar granola for crunch. And the best sourdough in Ithaca from Breadhead Home Bakery to mop up all those flavors - handcrafted sourdoughs made with locally/organically grown stoneground heritage grains. Seriously, once I got a taste of this, I couldn't go back to any other bread. I get mine from GreenStar on Buffalo St. He usually delivers to the store on Mondays, Wednesdays, and Fridays.
Also on the menu...
More of this sourdough in a composed toast format. I gave a good smear of quark and piled on chickpeas & local spicy greens that were tossed in lemon juice, olive oil, chili flakes, and everything bagel seasoning. To top it off, I finished with Amagansett sea salt, fresh basil, lemon zest, and once again, cheddar granola. Wow, how good!
These were all meals over the course of a week. Fresh sourdough is meant to be eaten everyday :) 
Because here you see it again!
I made some homemade Thai massaman curry paste a little while back, the recipe which I got from one of my favorite Thai restaurants in the city.
Wanting to do more with this paste than just making curry everyday, I made a Thai version of shakshuka, a dish of eggs traditionally poached in a sauce of tomatoes, chili peppers, and garlic, with spices like cumin, paprika, and cayenne. It's usually found in Mediterranean and Middle Eastern regions of the world, but I spruced it up the Thai way!
I seared some chopped sweet potatoes and broccoli, set it aside, and toasted the curry paste in the pan until fragrant. I added a bit of beer to the pan and simmered it down, then threw in vegetable stock, vegan fish sauce, coconut milk, the sweet potatoes and broccoli, and some heirloom tomatoes to marry all the flavors. I cracked some eggs on top with some spicy local greens, and covered until the whites were firm. Voilà! A dish of poached eggs, with a squeeze of lime juice and a side of crusty sourdough to dunk into the amazing flavors. No granola in this one :)
What are some of your favorite meals and how do you stay connected to your food?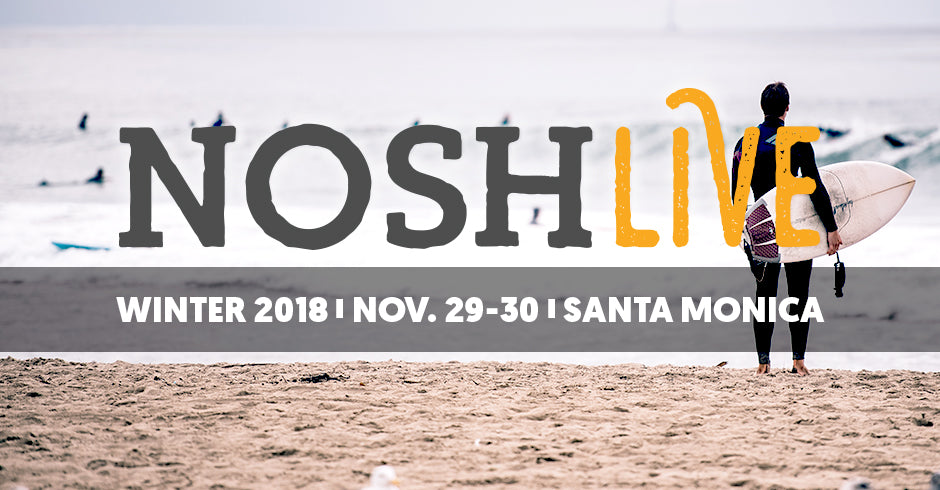 News
We are so excited to announce that bumble & butter has been selected to compete in the NOSH Live Pitch Slam competition on November 30, 2018 in Santa Monica as part of a two-day business confe...
Read more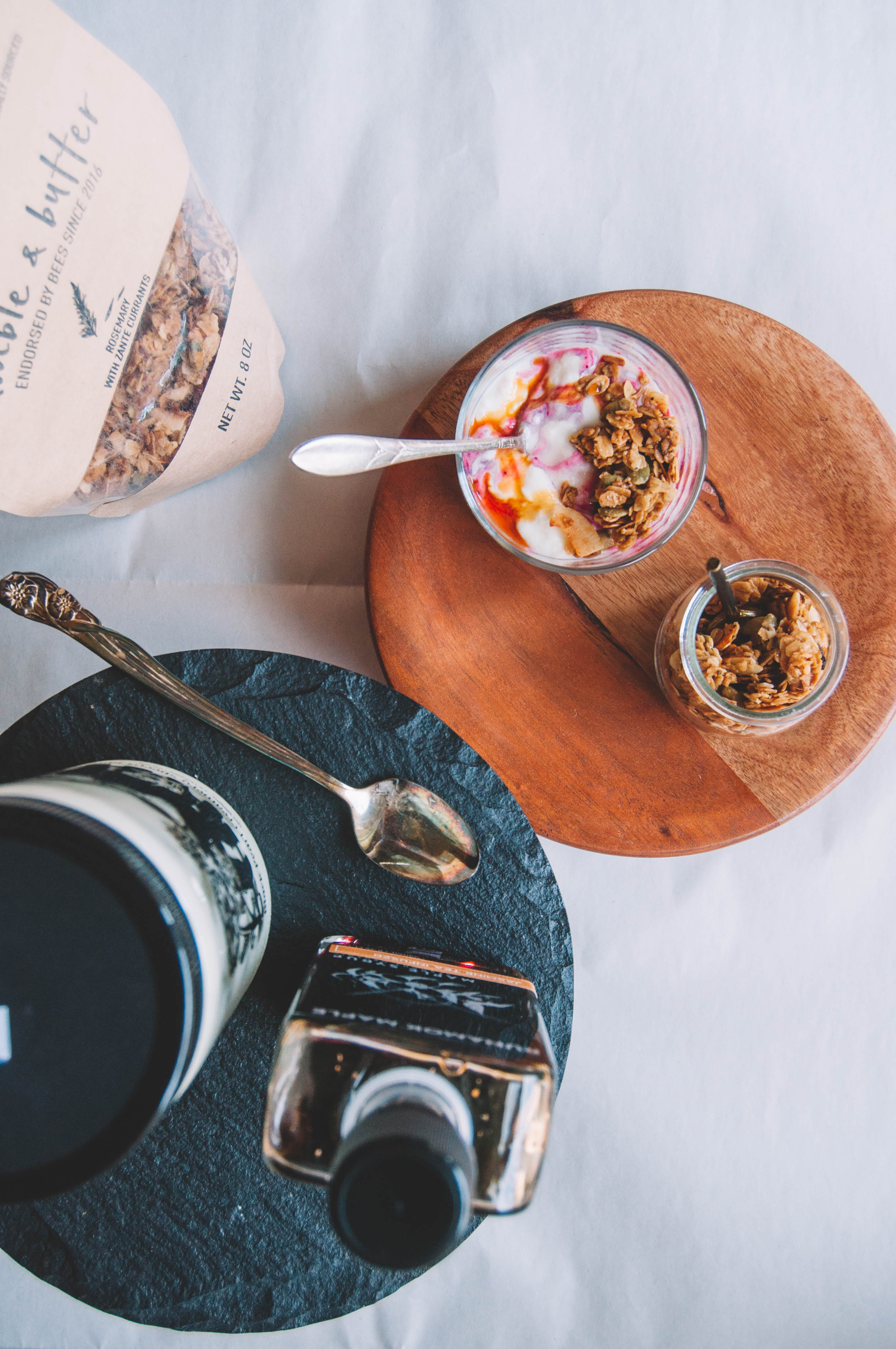 One of the greatest pleasures of doing what I do is meeting other artisans and hearing their stories. Being in upstate New York and traveling to markets, I'm surrounded by a plethora of great farms...
Read more