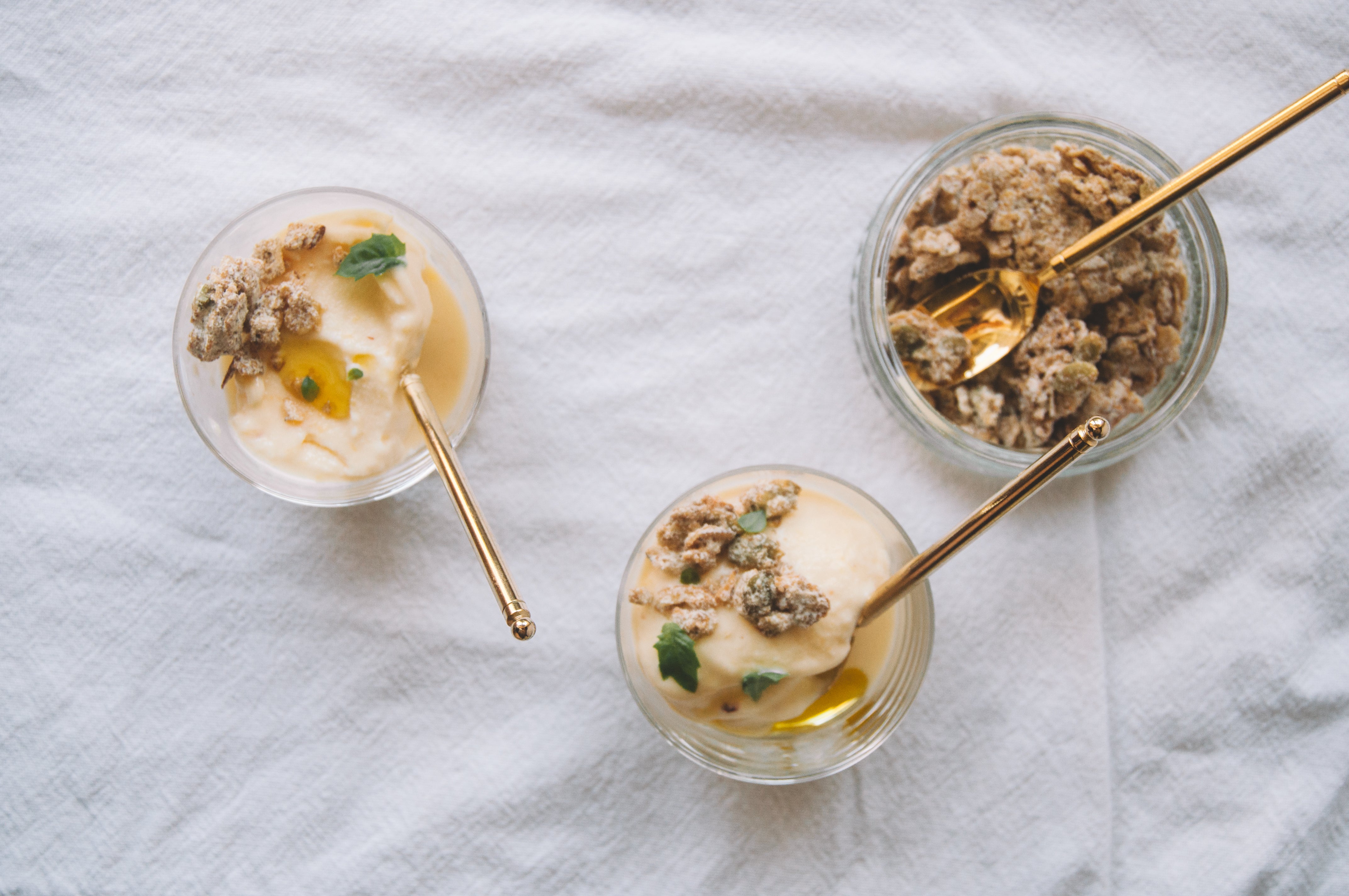 Roasted Peach & Basil Ice Cream with Aged Cheddar Granola
Our Aged Cheddar Granola adds a sweet & salty crunch to this elegant peach ice cream, swirled with raw honey and infused with fresh basil. 
We round out the flavors by adding a drizzle of extra virgin olive oil (fat = flavor!), and bring in the saltiness with an extra sprinkle of sea salt, and our savory granola.
Slightly savory, bright and tangy, with a fresh bite of sea salt & zingy basil.
Ingredients

1.5 lbs peaches (or 5 small ones), halved
1-2 tbsp honey
1 tbsp butter
3 cups whole-milk greek yogurt
1/2 cup heavy cream
3/4 - 1 cup honey, depending on level of sweetness
Handful of fresh basil leaves
2 tbsp extra virgin olive oil
1 tsp Vanilla extract
A pinch of Sea Salt
Jamie's Farm Aged Cheddar granola to serve
Extra Virgin Olive Oil to serve

 Preparation

Freeze your ice cream maker bowl overnight. 

To roast and prepare the peaches: Heat oven to 425 degrees F. Toss halved peaches with melted butter, honey, and a pinch of sea salt. Roast for about 20 minutes until tender, then let cool.

Transfer to a food processor and blend until smooth. Let cool to room temperature.

To make the frozen yogurt base: Heat basil leaves with heavy cream over medium high heat to infuse. Let sit and cool.

Once cool, strain out the basil leaves, then combine basil-infused cream with yogurt, honey, vanilla extract, olive oil, and sea salt in a bowl. Whisk until fully mixed.

Churn in your ice cream maker until thick, about 17-20 minutes. Scoop into a freezer container to let harden for a few hours.

Serve with Aged Cheddar Granola, a drizzle of olive oil, fresh basil leaves, and an extra pinch of flakey sea salt. Enjoy!