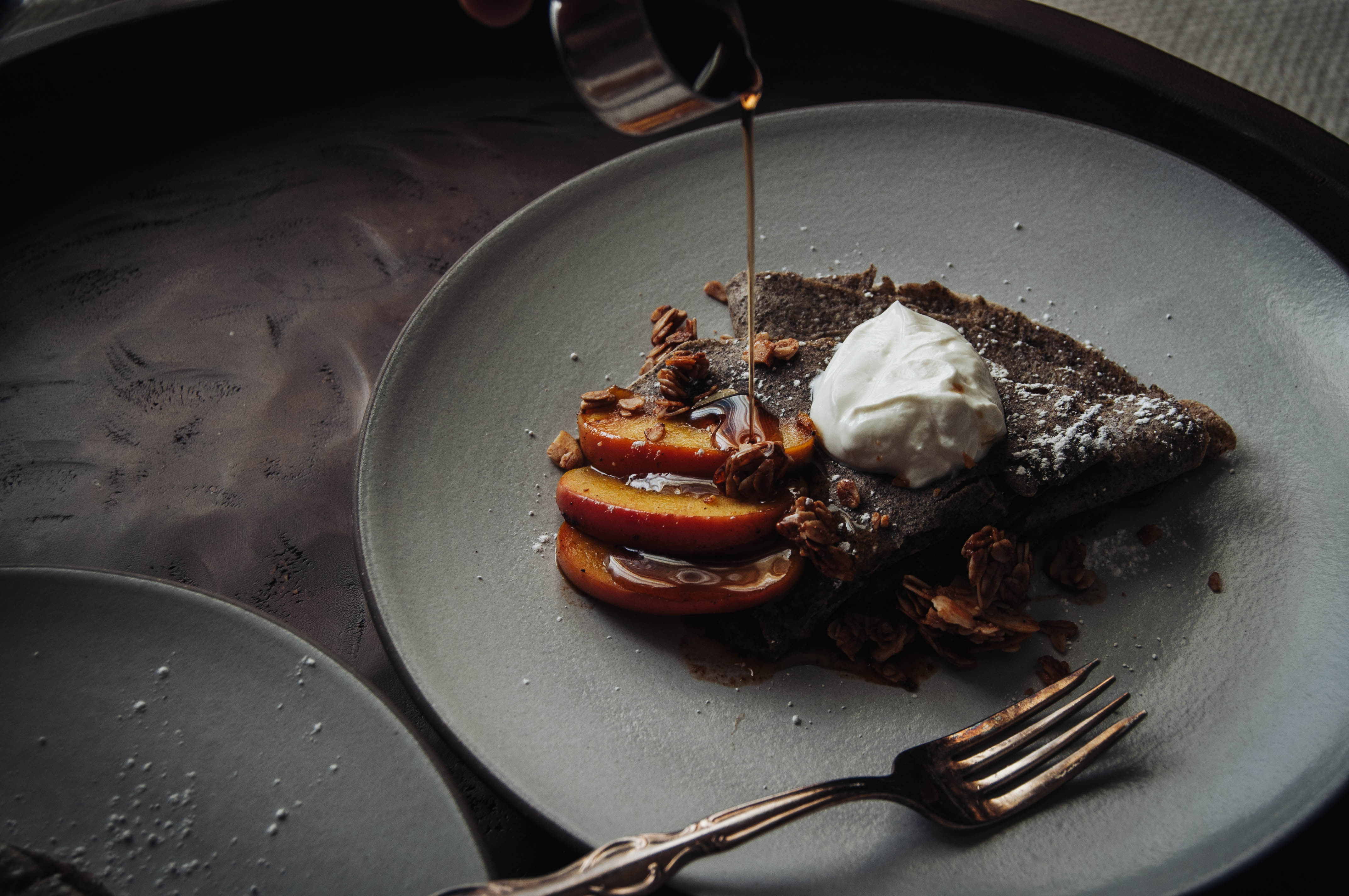 Buckwheat Crêpes with bourbon cinnamon apples
Makes 10-12 crepes
1 cup buckwheat flour
3/4 teaspoon salt
2 large eggs
1 cup milk of choice (we used almond)
1 tablespoon avocado oil or melted unsalted butter
1/4 to 1/2 cup water
Butter or oil for greasing pan
For the apples:
2 large apples, sliced
3 tbsp honey or maple syrup
1/4 cup water
1 tbsp bourbon
1 tsp cinnamon
1/2 tsp turmeric
1 tsp five spice
Pinch of salt and freshly ground black pepper
To serve:
Greek yogurt
Powdered sugar
Mix the buckwheat flour, salt, eggs, milk, and oil/melted butter until thoroughly incorporated. Set aside and allow to rest in the refrigerator for two hours or overnight. When ready to make, thin the batter with the water, using less for thinner crepes or more for thicker crepes.
In a saucepan, simmer apples with honey/maple syrup, water, bourbon, and spices. Reduce until the liquid is to syrup consistency and apples are soft. 
Heat a nonstick pan or crepe pan over medium-high heat, greasing if necessary. Pour the batter and swirl around the pan to evenly coat a thin layer. Cook the crepe for about 1-2 minutes until it lifts from the pan easily. Set aside.
To serve, fold up crepes and top with Greek yogurt and apples. Pour over the reduced apple syrup and dust with powdered sugar. Don't forget the granola!
Rosemary Granola
We made a delicious, moist poundcake packed with maple flavor, with zingy bits of candied ginger and lemon zest dispersed throughout. Instead of butter, we used a mixture of yogurt and extra virgin...
Read more