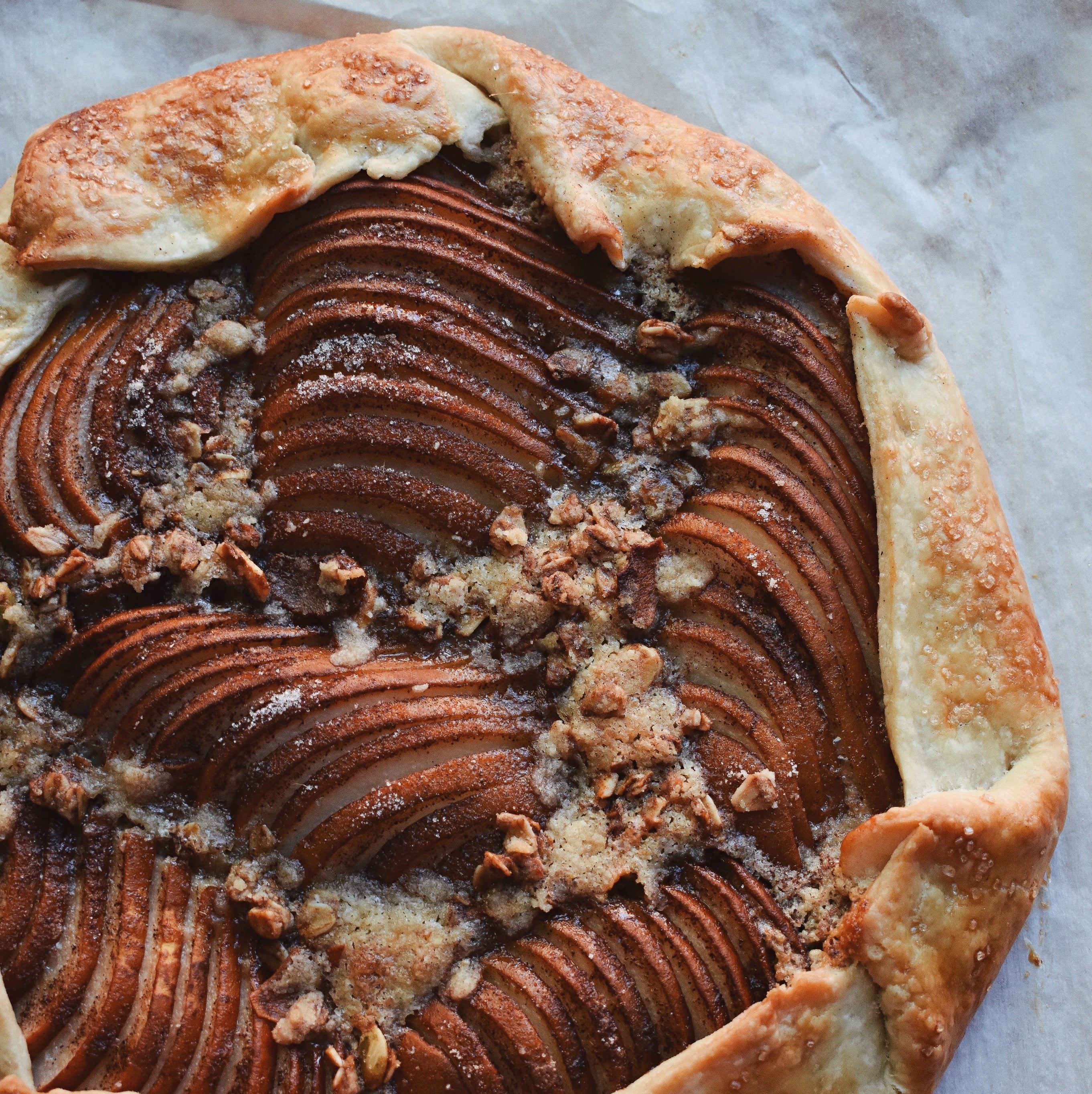 Spiced Pear & Frangipane Galette with Granola Crumble
This galette made by our friend Kim Van Dyne needs no explanation - a beautiful dessert, with the warm flavors of cinnamon and succulent pear, tied together by a flakey pie crust and our Sweet Potato Granola as a crumble topping.
Ingredients:

Crust:
OR homemade crust:

1 ¼ cups AP flour

8 tbsp cold, cubed unsalted butter

1 tbsp granulated sugar

½ tsp salt

4-5 tbsp ice water (more or if needed)

Filling:
4 tbsp browned butter, completely cooled
¼ cup + 3 tbsp granulated sugar (separated)
½ cup almond meal or almond flour
1 tbsp AP flour
½ tsp almond extract
1 large egg
2-3 ripe but firm Bosc pears (sliced with skin on in about 1/4 inch thick)
½ tsp cinnamon

¼ tsp ground ginger
Crumble + Assembly:

3 tbsp Sweet Potato Granola plus extra for garnish

2 tbsp AP flour

1 tbsp brown sugar

1 tbsp cold butter, cubed

Coarse brown sugar for sprinkling

1 egg, beaten for egg wash
Skip this step if using pre-made pie dough:
Homemade dough:

Whisk flour, salt and sugar in a large bowl.

Using your hands, cut in butter by squishing the cubes between your fingers, making sure the butter is always coated with the flour mixture. Incorporate butter until the pieces are pea-sized.

Add in ice water, a couple tablespoons at a time. Mix with hands in a fluffing motion until dough is shaggy and can hold its form when squeezed.

Form dough into a ball and loosely wrap  in plastic wrap. Once wrapped, flatten ball and shape into 1 inch thick disc, pushing dough to tightly fit plastic wrap. Let sit in the fridge for at least an hour before use.
Filling:
To make the frangipane, add cooled brown butter, 1/4 cup sugar, almond meal, AP flour and almond extract to a stand mixer with paddle attachment. Mix on medium until it starts clump, scraping down the sides as needed. Add in egg and beat on medium-high until fully incorporated thicker in texture and lighter in color. Set aside.

Combine remaining 3 tbsp sugar, cinnamon and ginger in separate bowl to sprinkle on pears.

Make crumble by mixing flour and brown sugar together in a small bowl. Cut in cold butter with fingers until mixture resembles coarse crumbs. Mix in granola and set aside.
Assembly:
Preheat oven to 400 F. Line baking sheet with parchment paper.
Lightly flour work surface and roll out dough (if using homemade) into a 10 inch circle. Move to baking sheet lined with parchment paper. If using store bought, place dough directly onto baking sheet with parchment.
Spread frangipane on the center of dough, leaving about 1.5 inches around the edges. Arrange pears in any pattern, just make sure to keep it on top of the frangipane, leaving the extra room around the edges. Sprinkle spice mixture all over pears, making sure to get in between slices.
Fold excess dough over the pears all along the galette. Chill formed galette in fridge for 5-10 minutes to prevent any leakage or misshaping of galette. When taken out of fridge, brush edges with egg wash and sprinkle with coarse sugar. Sprinkle granola crumble on top of the pears.
Bake for 35-38 minutes, or until the crust and filling are golden brown. Top with more granola, vanilla ice cream and enjoy!!